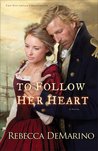 To Follow Her Heart by Rebecca DeMarino
My rating: 4 of 5 stars
I would recommend reading the first two installments prior to this one so you get the whole picture and why these characters make the choices they did, and why those choices held so much weight. That said, it is entirely possible to read this one without reading the first two and still having an enjoyable read. DeMarino's writing style is elegant and flows nicely throughout the book. For me, it feels authentic and well researched. I like the way everything comes together towards the end, leaving a satisfying feeling. Overall this is a very good read, entertaining and enlightening without anything too thick or over the top. I received an ARC through Revell Publishing in exchange for an honest review.