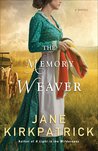 The Memory Weaver by Jane Kirkpatrick
My rating: 2 of 5 stars
Somehow this particular book missed the mark for me. I wasn't fond of the writing style from the beginning but gave it a fair chance anyway. I found it difficult to get into the story or connect with the characters, especially Eliza. The overall feel of the read was grey, almost depressing but not quite to the point of causing sadness. The flow was fine but it just felt flat. I struggled with picturing the landscapes and people as well. I feel there is a story here that could be brought to life, it just didn't happen for me. It's not that this is a terrible book, it's just not going to work for everyone. I received an ARC through Revell Publishing in exchange for an honest review. This in no way influenced my opinion, which may or may not mirror your own, and that's ok because we are all unique.