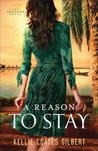 A Reason to Stay by Kellie Coates Gilbert
My rating: 5 of 5 stars
I started reading this late one night and ended up staying up into the wee hours to finish it. The flow of the story is so smooth, with just the right hooks where they are needed to make you want to turn the next page. The characters feel as though they could walk through the door in the flesh. I love the major plot thread and how the smaller threads are weaved in. This one hits all the right notes. I don't feel you'd miss too much by not having read the first two books but I would recommend you get them because they are very well written. I received an ARC through Revell Publishing in exchange for an honest review. This in no way influenced my opinion.