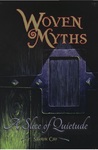 A Slice of Quietude by Sharon Cho
My rating: 5 of 5 stars
My son (22) picked this book up from my to-be-read pile on his way through my library, er, I mean, the living room. When he returned it he said, "You really should review this one before all those others. I loved it. It's really great." He then launched into a near-speech about the main character and her powers, the various other primary characters, the adventures they went on and how hilarious parts were. He then asked for the next book in the series. While this may not seem like a huge deal at first, once you understand that this is not someone who enjoys reading, it really is a big deal. 95% of books he picks up are quickly tossed to the side or returned to the pile with a groan about how awful it was. Clearly this is a very well written book with engaging characters and an intriguing plot. I skimmed the first chapters and actually found myself chuckling and almost didn't put it back down. So while I can't say I read and reviewed it myself, I can say that it earned very high marks from a very picky reader and that's enough for me to feel good about five stars. I received an ARC in exchange for an honest review. This in no way influenced my opinion (or my son's).