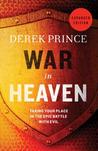 War in Heaven: Taking Your Place in the Epic Battle with Evil by Derek Prince
My rating: 2 of 5 stars
This was just an ok read for me. Instead of challenging his research or beliefs, I will just say that I don't believe everything I read and some things I understand or believe through my own faith. I cannot honestly recommend this particular book to my readers but feel free to make your own decisions. I received an ARC through Chosen publishing in exchange my an honest review. This in no way influenced my opinion.