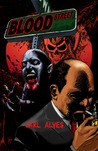 Blood Street by Carl Alves
My rating: 3 of 5 stars
Alves does a good job blending mob and vampire, and thankfully none of them sparkle or giggle. If you prefer your vampire novels dark and gritty and lacking lace sparkles and love interests then you'll enjoy this one. The only negative aspect would be some editing issues that need taken care of. Certain misspellings pull the reader out of the book while editing and transition issues make for a jerky feel to the read. Overall this is an enjoyable fantasy read. I received an ARC from the author in exchange for an honest review. This in no way influenced my opinion. All gifted copies are donated to our local library.
Interested in winning your very own copy of this novel? It's possible! All you have to do is enter a reply below answering one of the following questions:
1- What is your favorite science-fiction story? This can be a story from a book, movie, TV show, or even a poem.
2- When does it become more than suspension of belief and you no longer enjoy a book?
3- Which is worse, and why? A book full of mistakes. A book with poor formatting. A book with the same old story with no fresh aspects.
There are no right or wrong answers. Winner(s) will be chosen randomly and posted here. Winner will also have the choice of an e-book or physical copy mailed directly from the author. Have fun!