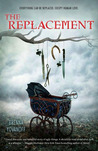 The Replacement by Brenna Yovanoff
My rating: 4 of 5 stars
Very creepy in a good way. This book is nothing like those books you read thinking "Haven't I read this before?" and it will keep you turning pages well into the night. I like the writing and how the whole thing flows. The plot has a good flow from start to finish. The entire thing feels original and well worth the read. I was able to read this book thanks to the traveling book group on GoodReads. Thank you!