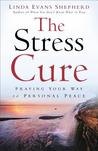 The Stress Cure: Praying Your Way to Personal Peace by Linda Evans Shepherd
My rating: 3 of 5 stars
This is a well organized book with prayer prompts and easy look up categories for how you're feeling. It's easy to use but no different than most other books of the same type. I've read quite a few but I doubt this one will get much use by me. Not to say it's not any good, just that I prefer other similar books. I received an evaluation copy from the publisher in exchange for my honest opinion.