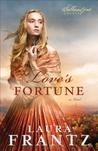 Love's Fortune by Laura Frantz
My rating: 4 of 5 stars
Well written and well thought out story. The characters are enjoyable to read about and connect with. You really want to learn more about them. The plot is interesting with a good flow throughout the book, with elements of mystery and action blended in. I definitely would recommend you read the first two books before starting this one as it helps certain parts make more sense. An evaluation copy was provided by the publisher in exchange for an honest review.