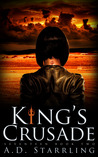 King's Crusade by A.D. Starrling
My rating: 5 of 5 stars
This book is an easy five stars for me, and that is saying a lot (if you've followed my reviews you'd agree). I can not say enough about how good this book is. The writing is great with really good choices in words and phrases. The editing job with this is really well done. The characters are well fleshed out with flaws and depth; yes even the "perfect" ones. I really like the developmental path for these characters as well. The plot is gripping with a great flow making this nearly impossible to put down. The world building is very well done. The descriptions are written with just the right touch and level of detail; the reader can easily visualize the scenes. Overall this is a very well done book and one very fun enjoyable and memorable read. I'm definitely keeping this author on the best of the best list. I received an evaluation copy in exchange for my honest unpaid opinion.